Most kids are taught to take the knob to the ball or some variation of taking/throwing/moving their hands to the ball to swing. At AB, I do not teach this. I don't teach "rotational" or "linear" hitting. I teach hitting based on the research that I do every single day. I probably average 5 hours of video study a day. Then I watch hitters here at AB take thousands of swings. I study that video. I have found patterns that the best hitters use that just aren't taught to hitters at any level. I strongly, strongly believe I have learned how to teach swing mechanics that have a distinct advantage over other "systems" of hitting. I believe it is a mechanical advantage based entirely on how the bat is swing. Which brings me to the question I ask in the title of the post…
What is Jose Bautista doing on deck?
He never takes a swing. Tons of stretching of his wrists, shoulders, back. He is establishing his timing with the pitcher… and every time he "takes" a pitch, the barrel moves rearward and downward. It is fairly casual. Some are more intense than others. This is the part I'm talking about.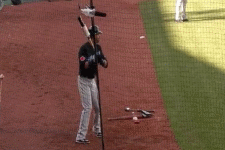 At first glance, it isn't that big of a deal. You could come up with a number of reasons to just excuse what he is doing and write it off. But did you happen to notice the first pitch he took in his at bat? Did you see what his barrel did? Not only did it go the same direction, but it was going pretty fast.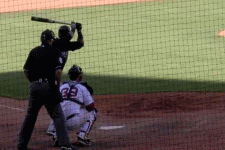 Something about my process of research, about the way I study film is that I will look for small details. When I used to play shortstop, I would watch how hitters would take practice swings between pitches to help anticipate where the ball would be hit. If the hitter was late on a fastball then practices being quicker, put an emphasis on being short or getting the barrel to the zone faster, I would position myself if I thought the hitter would be early because of an over-adjustment. With Bautista and other great hitters, I love watching them on deck, taking batting practice, working on a tee, anything where they are working on their process. I try to climb into their mind and understand their feel, what they are working on and most importantly WHY they are working on specific details. So let's look at a couple more clips to try to get into Bautista's process.
What is Jose Bautista doing during this intentional walk?
Talk about digging deep into a process… look at what Bautista is doing here.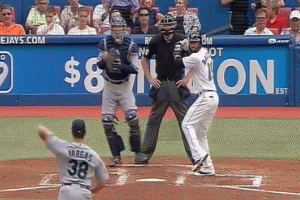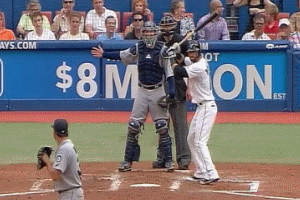 On the fourth pitch, he was taking his batting gloves off so he didn't do anything worth showing. There was no process.
I want to stress how important the wording, "There was no process" is. Professional hitters perform a process when they hit. They have a routine, they prepare. In the batters box, their swing mechanics have a sequence that needs to be executed. Their approach needs to be consistent. This is their process. Success is defined as being good with that process, not the result of the at bat. With youth players, it is tough to understand the demand for consistency within your process. Bautista had 655 plate appearances last year. If he isn't focused, if he is mentally checked out, he starts giving away at bats. Being a professional at the game of baseball means being professional in your process. And in Bautista's on deck routine, his take in the game and even during an intentional walk, hit process is extremely obvious if you know what to look for.
Professional Hitters Get the Same Feel In Many Different Ways
I need to say that Bautista's style isn't what I teach at AB. Actually, I teach very little style at all. I have been "accused" of teaching a high leg kick to players which makes me laugh. I make recommendations on style, I allow kids to try athletic things but focus on key components of the pattern that makes up the high level swing. If a player cannot execute the leg kick, we will talk about it. But when you watch games on tv, you see leg kicks, toe taps, barrel tipping, hitches. They aren't using the "hands back, foot down early" safe mechanics kids are taught. They are being athletes. And while some look similar, they all have a personal style that is unique. Bautista has a crazy high leg kick. He starts his hands very high, using a bat wiggle that is more focused on going back than forward. Then that swing process kicks in…
Jose Bautista Game Swings
What I will ask of you now is to watch the follow clips a couple billion times. Study them. Look harder and deeper. Try to see his process. Try to feel his process. See if you can see the barrel action of his take in his game swing.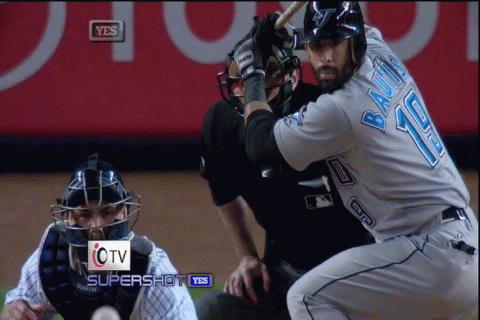 And finally… You need to feel this. You have to get through these frames yourself. 99% of the time, "Knob to the ball" prevents this from happening. 99% of the time, thinking "Knob tot he ball" makes it impossible. Watch the barrel!!!
Next Step:
We will be releasing our off-season programs very soon. Go to the top right of this page and enter your email address. This will get you on our email list so you will be notified when programs are released. You'll also get updates when we share other information like in this post!
Thanks for reading!